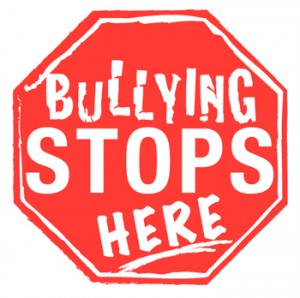 My teacher told me today, there are special programs to help with bully problems. That made me feel better
A lot of people are still wondering why some people are bullies. My theory is that he or she has bad parents, or tries to feel good about themselves by bullying.
Cyberbullies (when bullies attack on the Internet) are one type of bully. Cyberbullying is when a bully sends bad e-mails about the person they're talking to, or by putting a bad video of them on YouTube or spreading rumours about the person.
Victims of bullying are killing themselves due to confusion and sadness. Since 2003 the number of bully victims killing themselves has doubled. Last year about 7 people killed themselves due to bullying.
Today programs and teachers are looking out for these kinds of problems so they can stop kids from making a terrible mistake and ending their own lives.
In April 1999, 3 bullied victims became terrorists, coming to school and killing the first students they saw. One school shooting was in Columbine, Colorado, the second one was in Taber, Alberta.
Because of all this madness, parents and teachers are keeping an eye out for bullies.
People will change. That is the truth. Improving your attitude is a part of changing your life for the better. It does sound hard. When recovering from bullying some feel very angry and that is a part of putting it all behind you. Some people I met don't even remember the bullies that hurt them. I do think it is a good thing because people do need to move on. If you spend too much time thinking about what happened in the past you will miss out on current events, on living your life. What if you people have families and children. Moving...
read more
I was surprised and happy to hear that other people in North America have found out about my website. I never thought that I would get so much good feedback. Some kids from The Brenham Community Center in Texas contacted me to suggest a site they really like. The link is here. I like this site because in some ways they are helping towards raising awareness to the terrible ways bullying can shape people's lives in contemporary North America. They are right about bullying today. Bullying has grown from beyond the school campus to our...
read more
Bullying is a huge problem for millions kids world wide. Experts say at least 25% of kids have been bullied at some point in their lives, and we think the real numbers are much higher. Here's our advice for stopping the bullying: If you can, ignore the bully. The bully wants to get a reaction from you. In lots cases, if you ignore them, they will go away. Tell the bully you feel threatened by them.  They may not even realize they are scaring you. If the bully doesn't stop when you ask them to, tell a teacher or counselor. They...
read more
All of us have been bullied at one point or another.  Our goal with this website is to help you realize that you are not alone. I need to tell you all something. I used to be a bully, it all started when I was a victim of bullying. People started saying that my diagnosis of autism was a bad thing to happen. I needed to get my anger out so I started yelling at other people's faces, I was never going to stop it was always yelling or hitting. A class mate in my school said she hates autism and the trouble it makes. I started shoving people...
read more